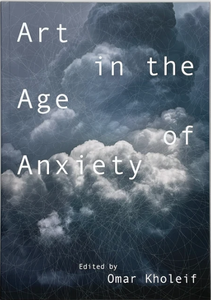 Art in the Age of Anxiety
conjures the bombardment of information, misinformation, deception and secrecy that invades both online and offline life in the 'post-digital' age. It invites the reader to consider how one's perception and decision-making has been deeply affected by the proliferation of internet access, which now surpasses 3 billion users worldwide. 
This publication brings together some of the major thought leaders in the field of image and internet culture. They have each produced new critical writings that interrogate the digital realm from a variety of perspectives. Their writings are presented alongside beautifully produced artistic interventions to create a book that operates as an exhibition in its own right. 


Themes explored within the publication, include, the future of money; the role of art in a post-COVID-19 era; mental health in the digital age; the mediation of image culture through the internet; the surfaces of exhibitions online; grieving online; the thickening of the digital sphere, as well as a re-appraisal of cross-embedded media. This meticulously designed book is a labour of love produced by a collective of writers, artists, designers, photographers and publishers. Ultimately, this pivotal piece of work seeks to ask: What is our collective future and how will humanity adapt to it? 


This major publication coincides with the exhibition, 
Art in the Age of Anxiety
was 
the most ambitious exhibition to look at the relationship between art and the internet ever to be held in the Middle East. Curated by Dr. Omar Kholeif, one of the leading voices in the conversation on art and its relationship to technology - the exhibition explored how our everyday devices and their attendant networks have affected our collective and individual consciousness. The project was designed by leading architect, Todd Reisz, who worked with Kholeif and the Sharjah Art Foundation team to create an immersive, labyrinth that played with cognition, light and shadow -
inviting the viewer to consider their complicit role in the increasingly corporatised technological sphere. After delays due to COVID-19, the exhibition opened in the summer of 2020 and was one of the most popular exhibits in the Sharjah Art Foundation's history.