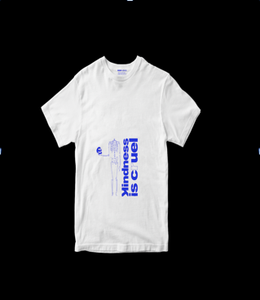 KRÂN x Dr O // Kindness is Cruel T-shirt
Limited Edition Wearable Poem
This T-shirt is Limited Edition of 100
Reem, a human born in the mid to late 90s, and Dr. O, an old-world millennial, grew up worlds apart, or so they first assumed. One day, one of Dr. O's avatars posted a fragment of their poems on Instagram—a colossal serving of heartbreak. In these words, Reem felt an organ scorched, so much so that its sting could be felt across the oceans.
In their first collaboration, KRÂN has interpreted one of Dr. O's poems and transformed it into a piece of wearable architecture. Kindness is Cruel, or is it? Based on the poem, "The Sphinx that Winked at Me". 
Comfortable Fit
Each T-shirt comes in Dr. O and Krân's custom packaging.