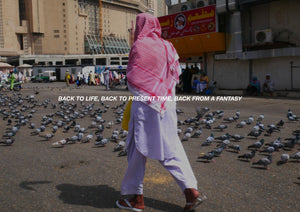 Back to Life, 2021
Archival Digital Print
42.0 x 59.4 cm
Edition of 10 each
Prints are sold unframed
This Is No Ordinary Love explores the relationship between faith, spiritually, collective meditation and dance music, nightclubs and raving. The series consists of digital artworks, a zine featuring images, poetry by Peter Armitage, an essay-as-forward by acclaimed artist Abbas Zahedi and a sticker pack. 
The works are inspired by teenage years spent traveling around the North West of England after dark with my father from one mosque to another, to strangers houses and basements participating in an underground circuit of Sufi Dhikr ceremonies. Whilst in parallel, I discovered the legendary, house music, club scene in Manchester. Again, basements, strangers houses, song and dance. 
From one underground to the other, incognito in each environment, one secret from the other. Two lovers whose paths never crossed, whose world's had more in common than they knew.