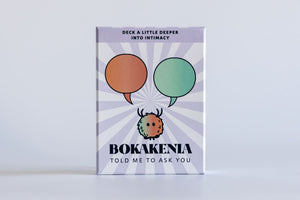 This deck is designed for everyone looking to get more intimate with other people in their life. The deck includes questions to uncover and explore all players behavioral tendencies, self-perception, inner states, memorable experiences, and future ambitions.

The deck contains 31 extensively tested question cards designed to strengthen the connections between all participating players. 

Guidelines:

Find a relaxed & comfortable setting
All participating players should answer each question in the deck
Questions should be played in numerical order
Try to listen & appreciate the answers of your partner(s)
Colours and contents may vary from those shown.