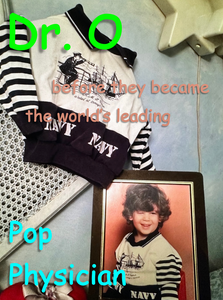 'Dr. O - Pop Physician' (2022)
Developed by Dr. O with Blake Karim Mitchell 
Edition of 3 + 2 Aps
Size: 22.8 x 30.48 cm
Omar Kholeif aka Dr. O was uprooted from their childhood home of Cairo, Egypt at 3 months of age.
But Mama always kept a bedroom for the first of her four sons, Omar, who was born on her birthday in 1980-something. 
With its signature luminescent blue wallpaper, the bedroom was kitsch chic at its best. But Dr. O never got to see it in-person. 
Not that they could remember, anyway. 
Nearly 40 years on, Dr. O's bedroom remains unchanged. The wallpaper now yellowed and peeling. 
Mama sent Dr. O this childhood picture—a picture within a picture, with Dr. O donning their favourite nautical childhood sweater that she had kept for him for all those years (pictured within). 
The WhatsApp message sent with this photo was the first correspondence between Mama and son, after a silence for more than 2 years. 
Dr. O's breed of Pop, they realised, must have first begun with that very first bedroom aesthetic!