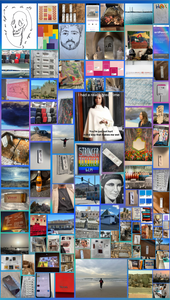 Untitled, Year 2022 (2022)
By Dr. O and Blake Karim Mitchell 
Edition of 9 + 3 APS
Size: 40 x 70 cm 

What does a composite image of a year in the life of Dr. O aka Omar Kholeif look like? 

A free-wheeling bonanza spent in constant movement, in searching, and in longing, for a home?
2022, post-pandemic, Dr. Kholeif travelled from their childhood home of Glasgow, Scotland to their adopted home of Los Angeles, California, weaving in and out of Sharjah, Dubai, Abu Dhabi, Hamburg, Paris, Maastricht, New York and London, and back again, in an endless cyclical loop, carrying all of their possessions (their Pop Shop, with them). Is a final landing place ever to present itself? Here you get to own a deeply personal and intimate portrait. This is topography, indeed, a fragment of a world from a dizzying year in the life of an avatar, who has helped shape the face of contemporary visual culture in the 21st century.
Framing available upon request in Dr. O's signature oak frame with non-reflective glass.