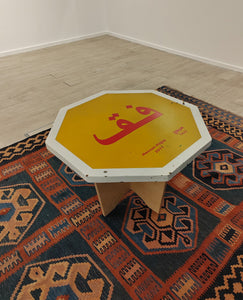 Medium: Screen Print on Acrylic mounted on Plywood
Legs: Wood Painted with Acrylic Paint
46 x 60 x 60 cm
Born in Larache, Morocco in 1961, Hassan arrived in London in his teens and grew up amid the emerging club culture in the UK. Known as the "Andy Warhol of Marrakech" Hassan is very much a child of the pop art generation. His work encompasses many techniques and fields, from designing and producing furniture including lamps, stools, and poufs made from recycled North African objects to custom made clothes and photography. 
Click here for more information about the artist Hassan Hajjaj