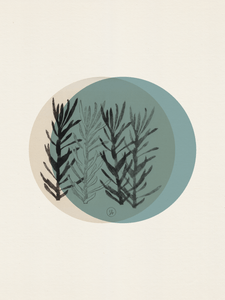 Botanic Series Bade-Saba AW2 G, 2020
Hahnemühle Photo Rag, 500 gsm, 100% White Cotton
30 x 40cm
Edition of 10
Print Sold Unframed
 
Botanical series, Bade-Saba (Saba the Wind)
Sahar started creating this series in 2019. Based on, study, research and process. 
Her inspiration for this continuing series comes from studies related to one of the local beliefs in Iranian poetry and myths; the relationship between wind and plants that causes nature to flourish. 

Sahar Bardaie is a Visual Artist, Contemporary Fiction Illustrator, Curator & Educator. Born in Tehran, Iran in 1977, she studied illustration (MA) and painting (BA) at Art and Architecture of Fine Art University of Tehran.