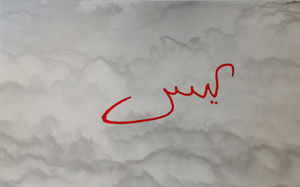 Negus, HK16 
Digital print on rice paper
47 x 84.4cm
Unique 
Negus, is a 28 minute listening experience consisting of 8 compositions recorded in London in 2015, produced by Lord Tusk, Steven Julien and Acyde.
Negus is presented as an immersive sound installation, that can only be experienced in person. The recording is unavailable for purchase via digital or physical platforms. Bey designed the multi-track recording as an installation to encourage people to be fully present while listening to it.
The exhibition was also accompanied by a range of merchandise produced for this iteration including notebooks, pins, chocolate and limited edition prints and tote bags.
This print was produced for the Negus presentation at Art Basel Hong Kong in March 2019.